ANT CONTROL
Select your category

General Pest Control
Targeted Pest Treatments
Rodent Control Services
Wildlife Control Services

Select your service

One-Time
Quarterly
Yearly
Ants | Sugar, House, Pavement
Wasps | Yellow Jackets, Hornets
Fleas
Roaches
Spiders
Not Sure / Not Listed
Mice
Rats
Not Sure / Not Listed
Bats | Initial Inspection
Beaver | Nutria
Birds
Dead Animal Removal
Opossum
Raccoons (July to February)
Raccoons (March to June)
Skunks
Squirrels
Voles

How big is your house?

Less than 3000 sq ft
3000 – 4999 sq ft
5000 sq ft or more
Less than 3000 sq ft
3000 – 3999 sq ft
4000 – 4999 sq ft
5000 sq ft or more
Less than 3000 sq ft
3000 – 3999 sq ft
4000 – 4999 sq ft
5000 sq ft or more
Less than 3000 sq ft
3000 – 4999 sq ft
5000 sq ft or more
Not Sure / Not Listed
Outside | 1st Floor
Outside | 2nd Floor
Outside | In Ground
Inside | 1st Floor
Inside | 2nd Floor
Less than 2000 sq ft
2000 – 2999 sq ft
3000 – 3999 sq ft
4000 – 4999 sq ft
5000 sq ft or more
Not Sure / Not Listed
Less than 2000 sq ft
2000 – 2999 sq ft
3000 sq ft or more
Not Sure / Not Listed
Less than 3000 sq ft
3000 – 4999 sq ft
5000 sq ft or more
Not Sure / Not Listed
0 – 1000 sq ft
1001 – 2000 sq ft
2001 – 3000 sq ft
3001 – 4000 sq ft
Greater than 4000 sq ft
Less than 2500 sq ft
2501 – 3500 sq ft
Greater than 3500 sq ft
Not Sure / Not Listed
Less than 3000 sq ft
3000 – 3999 sq ft
4000 – 4999 sq ft
5000 sq ft or more
Not Sure / Not Listed
0 – 1000 sq ft
1001 – 2000 sq ft
2001 – 3000 sq ft
3001 – 4000 sq ft
Greater than 4000 sq ft
Vancouver, WA or Portland, OR
1 Hour from Vancouver, WA
2 or more hours from Vancouver, WA
Not Sure / Not Listed
Light | (1-2)
Medium | (3-4)
Heavy | (5 or more)
Not Sure / Not Listed
1 Story
2 Stories
2.5 Stories | Split Level
3 Stories or More
Yes
No (90 min search time limit)
Crawl space under home
Roof/Attic, 1 Story Home
Yard | Garden | Shed
Not Sure / Not Listed
Crawl space under home
Roof/Attic, 1 Story Home
Yard | Garden | Shed
Not Sure / Not Listed
Crawl space under home
Roof/Attic, 1 Story Home
Not Sure / Not Listed
Crawl space under home
Roof/Attic, 1 Story Home
Yard | Garden | Shed
Not Sure / Not Listed
1 Story
2 Stories
2.5 Stories | Split Level
3 Stories or More
Standard Lot
1/4 Acre or more
Not Sure / Not Listed

Continue for Pricing

→
Our Ant Control & Removal Service
---
Getting rid of ants in Vancouver, WA and Portland, OR is no easy task. Ants are social insects that live in colonies, which means you must fully eliminate them to avoid another infestation down the road. Worse yet, store-bought bug sprays only kill a few ants at best and cause the rest of the colony to scatter around your home. Luckily, Wayfare Pest Solutions can help! Our team is trained to get rid of ants and prevent them from coming back. This page is about our procedures for sugar ants and odorous house ants, which are more common and often mistaken for sugar ants. We do offer services for carpenter ants, but those are case-by-case; get in touch with us to figure out what we can do for you!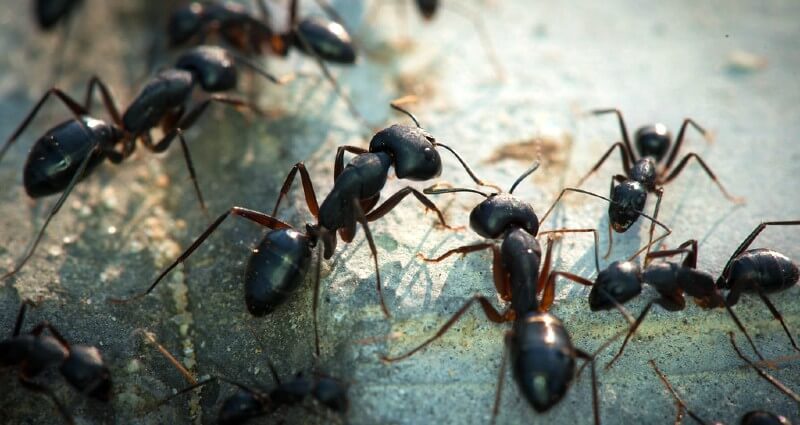 Our Unique Approach To Ant Control & Removal Service
Ants enter your home through the smallest openings looking for water and food. Once they find a source, they will leave a pheromone trail for other ants to follow. Our team knows this and stops ants dead in their tracks.
1. ANT INSPECTION
We'll perform a thorough inspection in and around your home. Inside, we'll inspect common problem areas and those indicated by you, assessing the level of infestation, identifying trails if present, and mapping out treatment. Outside, we'll check your foundational walls and identify possible trails, attractants, and environmental conditions that may make it easier for ants to enter your home.
2. INTERIOR ANT TREATMENT
We'll place professional ant baits in areas of activity and trails. Our bait is slow acting so that ants feed on it and can take pieces back to the queen, with the goal of killing the entire colony.
3. EXTERIOR ANT TREATMENT
After identifying possible trails in the inspection, we'll carefully apply a non-repellent insecticide around the perimeter and entry points of your home.
Why Choose Wayfare Pest Solutions
We're passionate about helping people just like you get rid of unwanted pest problems. As such, we are proud to be the only pest control company in Vancouver, WA and Portland, OR promising excellence in value, service, and trust.
Frequently Asked Questions
Ants invade homes looking for food and water. So if you leave dirty dishes in the sink, food residue on your counters, or crumbs on the floor, you're essentially inviting meal-seeking ants into your home. This becomes a problem when those ants set up their nests in your walls, on your lawn, and around your home's foundation.
Ant infestations are a pretty big deal. One of the biggest problems related to ants is food contamination. Ants carry bacteria on their bodies, which spreads when they crawl in your sink and across your countertops. Now, only a few ant species carry insect-borne diseases, but finding any ants in your home is an unpleasant surprise.
To get your ant problem under control, a proper inspection is your very first step. This allows us to design a unique program for your specific situation. So please give us a call at 844-929-3273 to schedule your ant inspection. Our team is thoroughly trained in eliminating ant colonies and will keep these pests where they belong: out of your business and home.
Get $50 OFF Initial Treatment
Mention coupon to redeem.
CALL TO CLAIM
Or dial 844-929-3273
Ant Control
CALL FOR PRICING
Ant Inspection
Interior Ant Treatment
Exterior Ant Treatment
Satisfaction Guaranteed
Or dial 844-929-3273
To get rid of ants, call 844-929-3273 today!
WHAT OUR CUSTOMERS HAVE TO SAY
---

We used Wayfare for some birds who decided to nest in our attic. The technicians arrived on time and were very knowledgeable. They did a through inspection of our attic and showed me the areas of concern. They communicated continuously throughout and did a fantastic job helping us. I will definitely call them again for any needs we have in the future. I want to mention they were also the most affordable option with one other company quoting us over a thousand more. I highly recommend them!
– Erin H. in Vancouver, WA.

Fast response and service! Mark came right out when I had wasps in my house suddenly. I was concerned there was a nest in my attic. He was thorough and checked the attic and outside eaves and sprayed and explained what was going on. I was grateful, the price was fair, and I highly recommend Wayfare.
– Dee B. in Vancouver, WA

A while back, I contacted Mark about a mole problem I had been experiencing. He sent someone over who showed me how to set some traps. Eventually, I figured out how to do it and caught my first mole. The service was professional and effective. Mark and his staff are excellent, professional, and just good at what they do.
– Jeremy H. in Vancouver, WA
Previous
Next
4.9 Star Rating ★★★★★
52+ Reviews

4.8 Star Rating ★★★★★
16+ Reviews
5.0 Star Rating ★★★★★
19+ Reviews